Bubble POP BaLL
Balloon popping game is a clicker style ball game produced by Gamikro . Touch the screen and ball will throw towards the balloons. Pop all the balloons and pass each level. You have 60 seconds of time to complete every levels of the game.
If you want to have fun in your spare time, play as much as you want. Balloon popping and puzzle game players will love Bubble BALL. Just drag the ball and move your finger.

Here is a link to Download Bubble POP BaLL game
Game features:
Touch the screen with your finger.
Drag your finger to adjust the ball speed.
When you lift your finger, the ball will fly.
Pop all the balls and balloons to pass the level.
Some balls are difficult to destroy.
Hit 3 times to blast hard balls.
Black balls never explode.
Updated controller makes it easier to catch the ball.
Gold balloons are worth 10 points.
Silver balloons are 5 points.
There are 50 levels in the game.
If you cannot finish the game by popping all the bubbles in 60 seconds, you will be deemed to have lost, but do not worry, in this case you have the right to request an additional 20 seconds with watching a rewarded video.
Each level in the game has to be completed in 60 seconds, but in some levels you will find a time-increasing bonus indicated by a small hourglass icon, and other bonuses beneficial for you.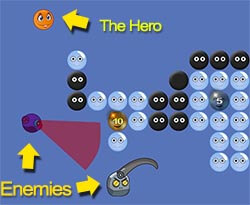 1: Time increaser (10 seconds)
2: Protective helmet from dangers
3:speed booster
How to Play the Game is shown with animation on the other page.
You can find all features regarding game settings and non-game applications in the link below, These features will help you play the game more efficiently and solve any problems you may encounter.:
Game Settings